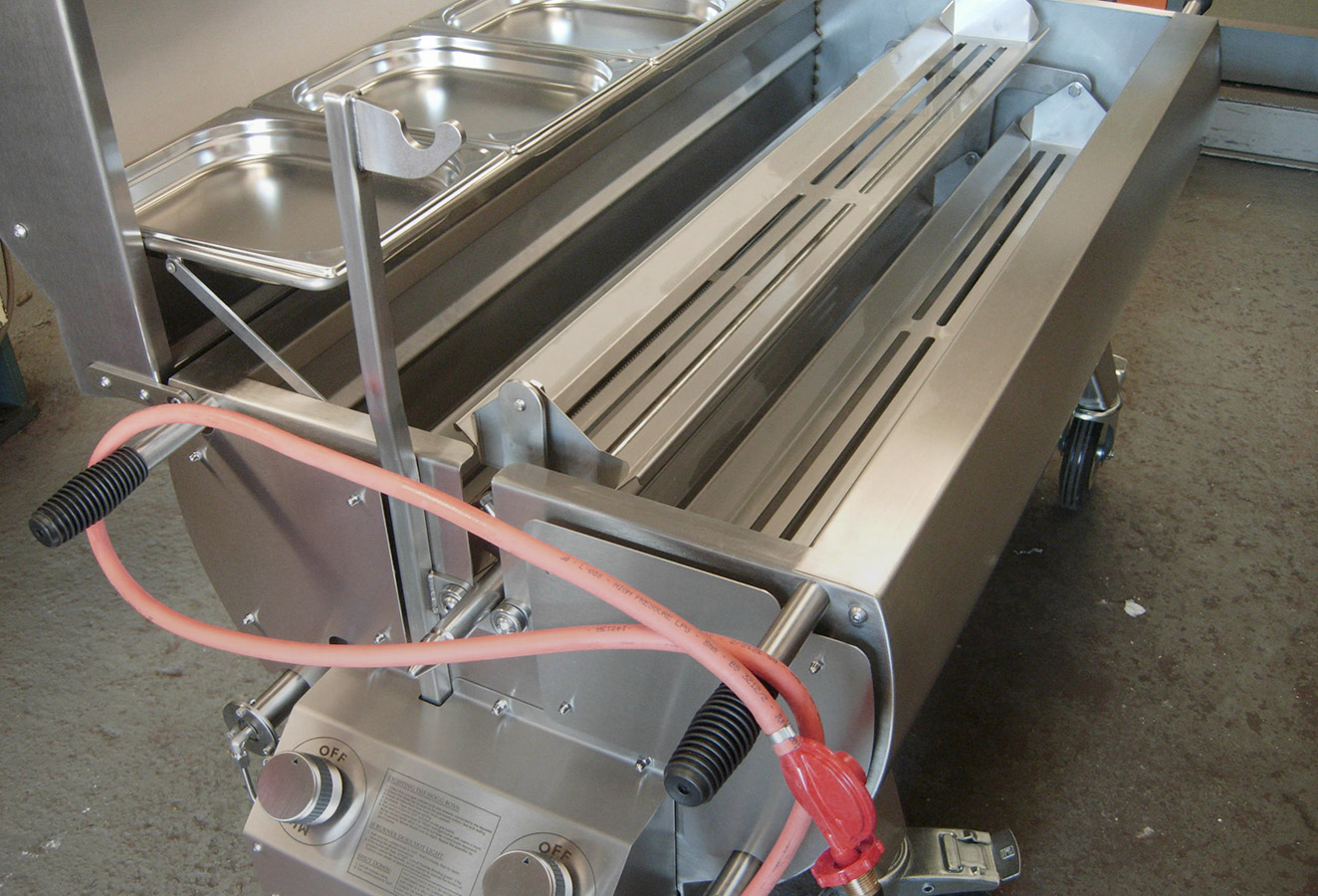 Hog Roast Machine Accessories
ADITIONAL IMAGES IN GALLERY
MULTI PURPOSE ROTISSERIE
Our Multi-purpose Rotisserie Attachment can be used to cook multiple individual joints of Meat, Poultry, Fish, Potatoes, or really anything you desire to cook that will fit on the attachment.
The attachment is available for both the Mini Boss and Hogg Boss machines.
The attachment is featured in the video below and is being demonstrated in our Mini Boss Machine.
FULL LENGTH GRIDDLE TRAY
Our Griddle Plate/Tray is a full length 6mm thick plate which turns the machine into a large griddle, this can be used in the same way as most griddles it can be used for cooking Burgers, Sausages, Bacon, it offers a large cooking area that is of a uniform temperature across its entire cooking surface,( No Hot Spots or Cold spots)
A very useful combination of our accessories would be to use the Griddle Plate and Hood Cooking Attachment together.
The cooked food can then be placed in the trays above to keep hot. Check it out in our Gallery Images.
HOG TRAY
Our Hog/Tray is a large deep sided stainless steel tray, this locates in the top of the Hogg Boss Machine in its dedicated position, it enables one to cook a large joint of Meat or a Pig by simply positioning it in the tray, (A non rotisserie method)
HOOD COOKING ATTACHMENT
Our Hood Cooking Attachment (high level cooking/roasting trays which are suspended below the lid). The clever canter lever arrangement of our Hood Cooking attachment ensures that the trays remain in a horizontal state regardless of the position of the lid. These trays can be used to cook things such as stuffing, roast potatoes, vegetables or anything that one would be cook or roast in a conventional oven. They can also be used to cook additional joints of meat if desired. The attachment is available for both the Mini Boss and Hogg Boss machines.
RAMPS
Heavy duty 6mm thick Aluminium Ramps, 2 metres in length, these ramps have been designed to assist with the loading and unloading of the Hogg Boss Hog Roast machine safely onto a vehicle. You maybe transporting the Hog Roast Machine to an event or location with a 70kg pig inside ready to cook, very heavy! Be it a van or trailer these ramps can provide a helpful alternative to struggling.
SERVING/UTENSILS SHELF
This device can be used when serving your customers straight from the machine, It is easily attached and removed from the machine, Just 2 screws. This can also be mounted on the front of the machine as a shelf for your essential tools. It has been designed with customer in mind, the cueing customers can place their opened bread roll on the serving shelf, then stand and wait as you fill it with beautifully cooked meat etc.From a hygiene point of our serving shelf can also help to separate the cooked meat from the customer.
The shelf can be seen used as a Utensils Shelf in our Gallery Images
SERVING TRAYS/GASTRONORM PANS
We can supply various Stainless Steel Gastronorm trays of all depths and sizes, such as our serving trays pictured here. Please contact us for further information.
SMOKER UNIT
Our Smoker Unit is a device that clips on to the side of the Hog Roast Machine and slowly introduces smoke from burnt wood such as Hickory into the cooking area, this can produce some interesting authentic smoky flavours to the meat being cooked. Our smoker unit needs no external power source, it can be offered now as an accessorise on all our new machines or retro fitted to all of our Mk 2 all Stainless machines. Below the smoker unit can be seen in oporation... Please enquire for more details.
HEAVY DUTY WEATHERPROOF COVER
Our Heavy Duty Weatherproof cover has been tailor made locally to fit snugly around the Hog Roast machine protecting it from the environment ( Now in Black Only)
The Cover is available for both the Hogg Boss Hog Roast and Mini Boss machines.